The winter holiday season is a time when many people give and receive gifts. If you're a Christian—and maybe even if you're not—you may have heard that God gave
us
a gift. In the well-known words of John 3:16:
"For God so loved the world that He gave His one and only Son, that whoever believes in Him shall not perish but have eternal life."
Let's "open" this gift together:
First, it's God's Son, Jesus, born in a manger in Bethlehem long ago: "God…gave His one and only Son."
Second, Jesus died on the cross to pay the penalty for the sins of all mankind. Through His sacrifice, those who believe in Him are saved from God's wrath—they will "not perish."
But there's more—those who believe will also "have eternal life."
What is meant by eternal life? The original Greek word for life in this verse is used in the New Testament to refer to God's divine life. Eternal describes the divine life—it is without beginning or ending, ever-present, and ever-existing. Clearly this gift is more than everlasting existence. You and I can possess and experience God's eternal life right now!
According to 1 Corinthians 15:45, now that Jesus has resurrected from the dead, He is a "life-giving Spirit." As the Spirit who gives life, Jesus comes to live in the human spirit of each person who believes in Him, causing that person to be "born again" (John 3:6-7). To those who believe in Him, the indwelling Christ is a continual source of life in every circumstance. You can receive and enjoy this gift every day!
If you would like to experience these precious gifts for yourself, simply pray:
"Lord Jesus, thank you for becoming a man and dying on the cross to pay the price for my sins. I confess that I am a sinner and take you as my Substitute. Thank you for saving me from God's wrath. I also open my heart to receive You as the life-giving Spirit. Come into me, grow in me, and lead me into the experience of God's life every day. Amen."
In the fall of 2014, H. J. of Melody of Lilies was diagnosed with stage-3 breast cancer and had to undergo chemotherapy and major surgery. But, by the Lord's mercy, she came out of her treatment a year later cancer-free. She wrote "Wait a Minute" a couple of weeks before Thanksgiving, 2015.
 "This song just seemed to flow out of me. I was so full of thankfulness to all of my friends and family for their prayers and support, and to the Lord for all that He had done to bring us through that very difficult time. And though the rest of the world around me seemed to be rushing from Halloween straight into Christmas, I just wanted to take some time to thank the Lord. My prayer is that the Lord would use this song to lead others to do the same."
Purchase an MP3 download of this song for $1.
In just a few short minutes on September 11, 2001, the world changed. In the weeks that followed, we were touched to share Christ as the only real Comfort with believers and unbelievers alike. We began to put a collection of songs together around this theme:
The God of the New Testament is personal and experiential; He is 'the Father of compassions and God of all comfort' (2 Corinthians 1:3-7). To those who open to receive Him, 'the Christ' who is 'the comfort' abounds!"
As is often the case when we want to do something for Him, the Lord wanted to work on us, to bring us through new, sometimes difficult, sometimes painful, experiences of Him. In the end, what we thought would be a relatively simple process turned out to be a 10-year journey. The result is our album, The Comfort Abounds, released through NYCYPCD.org in July 2012. We hope you enjoy it.
Purchase The Comfort Abounds  CDs from:
Or, download The Comfort Abounds  from: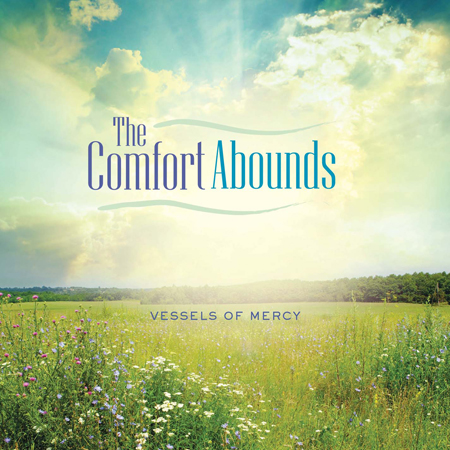 Take Time to Give Thanks
"You may be sick, but you are still alive. You may be poor, but you are not destitute. You may have coarse clothing, but you still have something to put on. Your house may be small, but you still have a place to lay your head. You should learn to seek for opportunities to thank God." (Watchman Nee: The Collected Works of Watchman Nee, v. 18, p. 261)
This year, don't skip Thanksgiving!